Section of Geriatric Medicine
In response to the needs of the growing aging population, Northwestern Geriatrics has established a comprehensive, patient-centered geriatric program to implement innovative research into the clinical care of adults over the age of 65 years. Our physician-experts understand that older adults face multifaceted health issues not experienced by younger patients. They embrace the importance of quality of life – a sense of satisfaction, meaningful activity, and the ability to express values and enjoy relationships – as an integral component of health care for older adults.
Successfully improving patient care and outcomes depends upon leadership selected to spearhead these efforts. Northwestern Geriatrics is led by Section Chief, Lee Lindquist, MD, MPH, MBA. Under Dr. Lindquist's leadership, Northwestern Geriatrics has made incredible strides—rising to #6 on the 2020 U.S. News & World Report Best Hospitals list from no standing just 19 years ago.
Learn More about the innovative research and training programs accomplished at Northwestern Geriatrics:
 The Northwestern Geriatric Emergency Department Initiative (GEDI Program)Education
This program was funded by a Centers for Medicare and Medicaid Services (CMS) Innovations Grant to explore means of returning older adults safely home following care in the Emergency Department (ED). he GEDI program, which aims to improve the care of elderly patients in the ED, has reduced hospital admissions sharply among older adults. Under the program, Geriatric ED Nurse Liaisons spearhead a team effort that includes interaction with primary care doctors, geriatricians, physical therapy, social work, pharmacists and home health to develop efficient, patient-specific care plans. Trained to complete geriatric assessments, these nurse liaisons coordinated care that allowed 53 percent of patients to return home safely—compared to 30 percent in similarly matched comparison patients who did not receive the intervention.
With the success of the GEDI program, Northwestern has subsequently become a national training center for other emergency departments wishing to become geriatrics-friendly. Northwestern has an innovative 1 week on-site geriatrics training intensive to help implement the GEDI program at health systems. Thus far, health systems from Florida, Connecticut, Pennsylvania, and Ohio have sent staff for training and implementation of the GEDI program in their emergency departments.
 Geriatrics Fellowship Program
Contact Us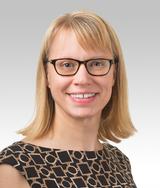 Lee Ann Lindquist, MD, MPH, MBA
Chief, Section of Geriatric Medicine
Associate Professor of Medicine
General Internal Medicine and Geriatrics

312-695-4525