Meet the Internal Medicine Residency Class of 2019
We are thrilled to announce our Match 2016 results and welcome the Internal Medicine Residency Class of 2019!
Summary Statistics:
3,0147 categorical applications
35 Categorical, 4 PSTP, 3 Prelims
50/50 Male and Female
53% AOA
59% from Top 25 medical schools
14% from underrepresented minority groups
View the 2016 Match Slideshow and learn more about the class of 2019.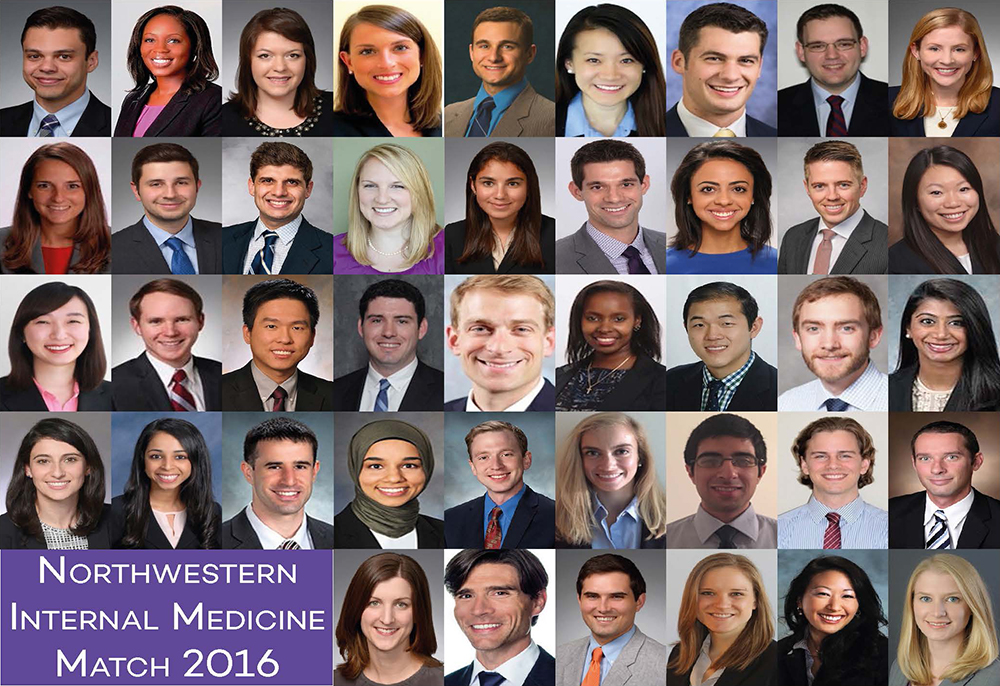 Special thanks to:
Douglas Vaughan, Aarati Didwania, Dave Neely, Warren Wallace, and the 2015-2016 CMRs: Bruce Henschen, Erin Unger, Julie Friedman, and Natasha Nichols.
DOM Team Education: Maija Nikurs, Kim Dow, Socorro Esparza, Anna-Kate Trubilowicz, and Judy Poremba.
Selection Committee: Mike Angarone, Liz Apolonio, Jeff Barsuk, Vinky Chadha, Yusra Cheema, Rachel Cyrus, Angelo Costas, Aarati Didwania, Dan Evans, Jim Foody, Julie Friedman, Bruce Henschen, Rob Hirschtick, Cheryl Lee, Gary Martin, Dave Neely, Natasha Nichols, Sean O'Connor, Kevin O'Leary, Jim Otto, Jay Paparello, Ben Singer, Pat Tosetti, Erin Unger, Arv Vanagunas, Dave Vermylen, Diane Wayne, Warren Wallace
Distinguished Interviewers:
Every single member of the Divisions of Allergy/Immunology and Pulmonary/Critical Care Medicine participated in recruitment.
Pretty close to 100%: Endocrinology, Gastroenterology/Hepatology, Nephrology, and Infectious Diseases.
Top interviewers: Pat Tosetti, Boye Ogunseitan, Cheryl Lee, Emily Jones, Jim Foody, and Kamu Maganti. 
Categorical:
| | | |
| --- | --- | --- |
| Name | Medical School | Undergraduate Institution |
| AbdulRahman Abutaleb | Northwestern | University of Illinois - Chicago |
| Omolola Alakija | Wake Forest | University at Buffalo |
| Shamsa Baaj | Loyola | Loyola |
| Madelyn Burkart | Wake Forest | University of North Carolina |
| Thomas Byrd | University of New Mexico | Vanderbilt |
| Yuan Cao | Case Western | UCLA |
| Sean Connolly | University of Florida | University of Florida |
| Austin Culver | Northwestern | Northwestern |
| Lauren Davis | Northwestern | Duke |
| Nicole DeCredico | Rutgers | University of Virginia |
| Domenic Farina | Northwestern | Cornell |
| Carlos Galvez | University of Illinois - Chicago | Boston University |
| Quinn Halverson | Oregon Health & Science University | St. Catherine University |
| Madeleine Heldman | Northwestern | Brown |
| Travis Howard | Georgetown | University of Florida |
| Lua Jafari | Ohio State | Syracuse |
| Ryan Lahey | University of Illinois - Chicago | Washington University |
| Angela Lam | UCSF | University of California - Berkeley |
| Lauren Lee | Northwestern | University of Virginia |
| Rob Lentz | Vanderbilt | University of Michigan |
| Chen Lin | University of Chicago | Yale |
| Fred McLafferty | UCLA | University of California - Berkeley |
| Alex Meyer | University of Cincinnati | University of Cincinnati |
| Joyce Njoroge | Case Western | Dartmouth |
| Michael Oh | Yale | MIT |
| Matthew Peller | University of Wisconsin | Bethel University |
| Nisha Raiker | Indiana University | Indiana University |
| Anna Rosenblatt | UT - Southwestern | Middlebury College |
| Kamya Sankar | Wayne State | University of Michigan |
| Robert Schenck | University of Virginia | Unviersity of Virginia |
| Saba Shaikh | Baylor | University of Texas - Dallos |
| Nick Simon | University of Virginia | Bowdoin College |
| Jamie Treadway | Rush | Scripps College |
| Punit Vachharajani | Washington University | Washington University |
| Jay Voit | Columbia | Middlebury College |
PSTP:
| | | |
| --- | --- | --- |
| Name | Medical School | Undergraduate Institution |
| Michael Burns | Vanderbilt | Notre Dame |
| Sarah Fenton | Loyola | St. Louis University |
| Taylor Poor | Northwestern | Wabash College |
| Keith Summa | Northwestern | Georgetown |
Preliminary Interns:
| | | |
| --- | --- | --- |
| Name | Medical School | Undergraduate Institution |
| Shelby Johnson | Georgetown | Northwestern |
| Olivia Quach | University of Virginia | Princeton |
| Lauren Smith | Northwestern | Northwestern |
Back to top