Cardiovascular Disease Fellowship Program
The three-year Cardiovascular Disease fellowship program with a complement of 21 fellows at Feinberg School of Medicine provides advanced training in all aspects of cardiovascular medicine and fulfills the eligibility requirements set forth by the American Board of Internal Medicine for the subspecialty examination in cardiovascular diseases. Our fellowship program is in constant evolution with ongoing input from both fellows and faculty members. We are committed to providing our fellows with the best clinical and research training in cardiology. The program is directed by faculty members in the Division of Cardiology, who have appointments in the Northwestern University Feinberg School of Medicine's Department of Medicine.
We are extremely proud of our fellowship program and the fantastic fellows who train at Northwestern. Northwestern cardiology fellows are bright, resilient, and dedicated to patient care, education, and research.  Our fellows are well-rounded and excellent in all areas of training, while also being kind, collaborative, and fun people.  We are also very fortunate to have outstanding leadership and mentorship, who support us through all of our academic, clinical, and personal endeavors.  We have a strong culture of collegiality and sense of community that makes Northwestern a very welcoming and enjoyable place to train and work.
Housestaff training through McGaw Medical Center of Northwestern University provides diverse and challenging clinical experiences and world-class education located in the heart of the beautiful city of Chicago. Learn more via the links to the McGaw website below.
Watch Our Videos
McGaw Experience Discover Feinberg Northwestern Medicine Community Partnership Program Learn More About Chicago Get to Know Streeterville
We are dedicated to teaching comprehensive and compassionate cardiovascular care while fostering a learning environment that facilitates the acquisition of knowledge and life-long learning skills  and providing time, resources, and mentoring to develop research skills.  Our cardiology fellows spend a minimum of 24 months in clinical training, in the diagnosis and management of a broad spectrum of cardiovascular diseases. Procedural requirements include cardioversion; electrocardiography, including ambulatory monitoring and exercise testing; echocardiography; nuclear cardiology; interpretation of magnetic resonance imaging; interpretation of coronary CT angiography; arterial catheter insertion; and right-heart catheterization, including insertion and management of temporary pacemakers; left heart catheterization and percutaneous interventions. All fellows have at least six months dedicated to research. The remaining six months consist of six other clinical rotations or extended research. These final six months allow our fellows to have flexibility in their schedule. Expertise in a particular clinical area or research can thus be obtained.  The option exists for a fourth year of fellowship that may be focused on either clinical- or research-related activity.
Cardiology fellows participate actively in the weekly cardiac catheterization conference, imaging conference, and clinical management conference, as well as journal club and ECG conference.  A basic sciences lecture series takes place during the academic calendar year.  Fellows also attend the weekly Cardiology Grand Rounds lecture series in which nationally prominent visiting speakers and Northwestern faculty members provide presentations on important clinical topics and clinically relevant research topics.  Each third-year fellow presents one lecture at Cardiology Grand Rounds in the second half of his or her senior year.  Once monthly a congenital heart disease pathologic conference convenes.  Fellows are encouraged to attend the research seminars held in the Feinberg Cardiovascular Research Institute.  They are also encouraged to attend Medicine Grand Rounds and the large number of lectures and seminars held throughout the Medical School.
FAME (The Feinberg Academy of Medical Educators)
FAME supports the educational mission of the medical school by recognizing outstanding faculty and trainee educators.  Educators can apply for membership, and FAME members are expected to dedicate time and service to education within the medical school.  Members gain unique opportunities, such as networking and leadership opportunities, faculty development events, and mentorship from other FAME members. 
McGaw Clinical Scholars Program 
In order to offer diverse educational opportunities to trainees, McGaw has developed multiple clinical scholars programs, which provide additional training in specialized areas of interest, including bioethics, global health, health equity and advocacy, and medical education.  Each program is 2 years and can be completed during cardiology fellowship. 
McGaw Clinical Scholars Programs
Masters opportunities
During cardiology fellowship, trainees have the opportunity to enroll in a broad range of graduate research programs.
Master of Science in Clinical Investigation
Master of Science in Biostatistics
Master of Public Health
Master of Science in Health and Biomedical Informatics 
Master of Business Administration 
Master of Artificial Intelligence 
And more 
Artificial Intelligence Fellowship
There are three main components of the cardiology fellowship curriculum: clinical experience, educational curriculum, and research endeavors.
The clinical experience is subdivided into clinical rotations and outpatient clinics, which provides fellows with a wide breadth of experience within all subspecialties of cardiology.  There are 9 core clinical in which fellows engage over the course of their training, which includes: consults (both at NMH and VA), echo / TEE, cath lab, nuclear, CVICU, EP, cardiac rehab, heart failure, and CCU (both at NMH and VA). Fellows primarily rotate through these core clinical rotations in their first and second years, which allows the third year to be more flexible with time for research and electives aimed at each fellows' individual career goals.
Jesse Brown Department of Veterans Affairs Medical Center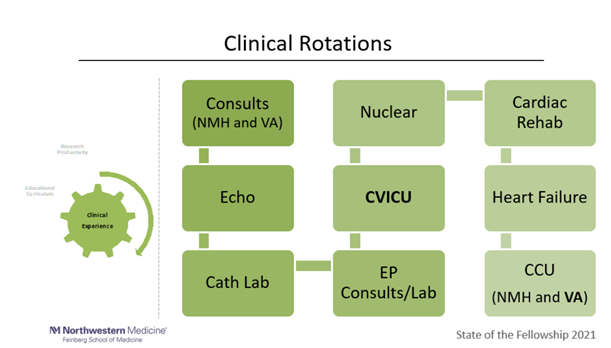 The second arm of the clinical experience focuses on outpatient clinics.  Each first year fellow is assigned a NMH attending for their continuity clinic, which is one half-day per week over the course of three years in training.  Starting in the second year, each fellow takes on an additional half-day at a VA continuity clinic.  Throughout training, fellows are given the opportunity to rotate through various half-day subspecialty clinics, including lipid clinic, valve clinic, adult congenital heart disease (ACHD) clinic, vascular clinic, HFpEF clinic, and advanced heart failure clinic, to name a few.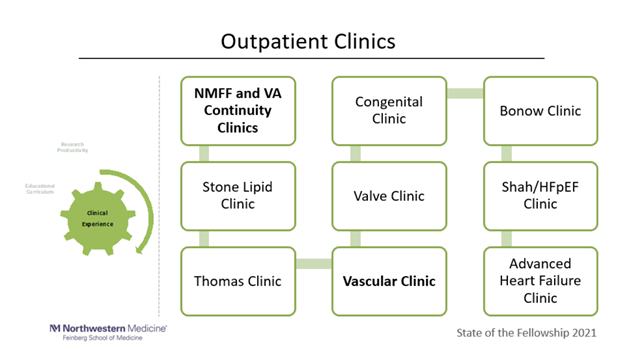 The educational curriculum includes a wide array of conferences to expose cardiology fellows to core principles of cardiology.  The curriculum consists of weekly cardiology grand rounds, where fellows learn and discuss cutting edge topics in cardiology from a number of esteemed leaders in the field, as well as morning and noon conferences, where both attendings and fellows present on various topics within cardiology.  The noon conferences include a wide range of didactic styles, from case presentations, to board review, to inter-disciplinary joint conferences.  Lecture series held throughout the year expose fellows to various themes within subspecialties, such as hemodynamics, genetics, adult congenital heart disease, cardio-oncology, cardiac surgery, and vascular surgery.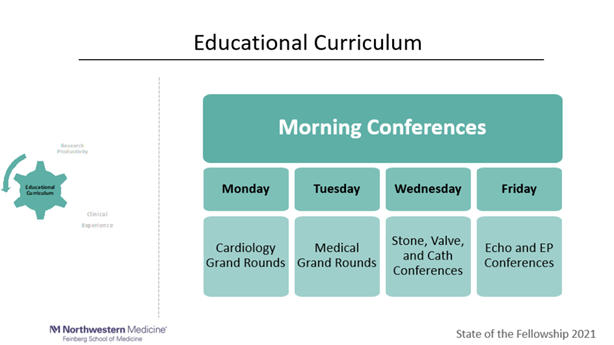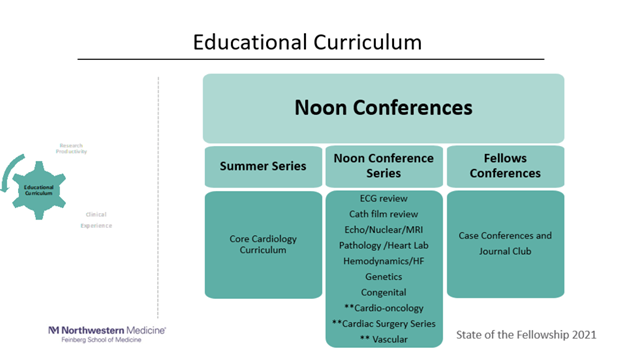 The research curriculum is a structured program in which fellows develop and implement unique research endeavors in a specific area of interest over the three years of training.  Fellows gain exposure to the excellent mentorship of a dedicated research team, including Research APD, Dr. Sadiya Khan, as well as numerous leaders in cardiovascular research.  Our fellows pursue a broad range of research interests, and interdisciplinary collaboration is common and encouraged.  We are extremely proud of our fellows' productivity in research, with numerous publications in peer-reviewed journals, presentations at national conferences, and even serving as discussants on popular cardiology podcasts, like Cardionerds.
Pregnancy, Heart Failure, and Peripartum Cardiomyopathy with Dr. Julie Damp
Fellows can gain additional training in research and scientific investigation through opportunities including a Masters of Science in Clinical Investigation, applications for independent funding, and postdoctoral individual training grants (T32 Training Grant). 
In addition to clinical duties, the fellow participates in either ongoing or self-initiated research protocols. Six to twelve months are dedicated to research activities, and it is expected that each fellow present at least one original research paper at a national scientific meeting and writes at least one manuscript for publication in a peer-reviewed journal. Each fellow also presents one lecture at Cardiology Grand Rounds during his or her senior year.
Within a 24-month period, Cardiology fellows rotate through the following clinical specialties: cardiac catheterization, cardiac consultative services, acute coronary care, and noninvasive testing. Other areas of training include electrophysiology, preventive cardiology, vascular medicine, heart failure, and consultation on the cardiac surgery service. Each fellow provides continuous care for patients with cardiac problems through an ongoing weekly outpatient clinic. During the second and third years of training, fellows rotate through specialty clinics including Adult Congenital Heart Disease, Vascular Medicine, Heart Failure with Preserved Ejection Fraction, Pacemaker Clinic, and Valvular Heart Disease.
DRIVE Committee* (Diversity Representation and Inclusion Vehicle for Equity) 
DRIVE committee is a team of dedicated cardiology faculty members and fellows who attend monthly meetings with a focus on diversity, equity and inclusion (DEI), through inclusion, education, recruitment, and outreach.  In addition to formal implementation of DEI, the group also hosts journal clubs, discussions, and community service.  For more information on Northwestern's mission to create an environment of diversity and inclusion, please see: DRIVE
The Department of Medicine at Northwestern University seeks to attract inquisitive, motivated residents and fellows and is committed to providing them with every opportunity for success. The greatest challenges facing the medical field are complex, and addressing them will require a diverse body of physicians and researchers who can work collaboratively. Northwestern offers unparalleled training and research opportunities and encourages fellowship applications from those who seek to become future leaders in the subspecialties of medicine.  We are committed to and inspired by a diverse and inclusive work environment that allows each trainee to achieve their personal goals.
For more information on Northwestern's commitment to diversity please see the following resources:
Those qualified to train with us must successfully complete training within an ACGME-accredited Internal Medicine residency program and secure full medical licensure in the state of Illinois prior to starting their Cardiovascular Disease fellowship.  If applicable, applicants must possess a valid visa and ECFMG certification.  Our program accepts applications via ERAS exclusively and we only fill our positions via the NRMP match.
In order to be considered for the nextCardiovascular Disease fellowship class, candidates must have the following documents available to us for download from ERAS by September 1st for review:
Photograph
ERAS Application
Curriculum Vitae
Personal Statement
MSPE
Transcripts
Three Letters of Recommendation (One must be written by your Internal Medicine Residency Program Director)
USMLE Steps I, II, and III Scores
View Sample Call Schedule here.
View Conference Schedule here.
See where our Fellows have gone on to after graduation!
2019-20
Ansel P. Amaral, MD: Cardiac Electrophysiology Fellowship - Vanderbilt University
Gregory Cascino, MD: Advanced Cardiac Imaging Fellowship - Northwestern University
Dominic Fullenkamp, MD: Advanced Cardiovascular Research Fellowship - Northwestern University
Vikrant Jagadeesan, MD: Interventional Cardiology Fellowship - Northwestern University
Rachel Kaplan, MD: Cardiac Electrophysiology - Northwestern University
William Schultz, MD: Academic Faculty at Emory St Joseph's Hospital
Nilay Shah, MD: Academic Faculty at Northwestern University
Arjun Sinha, MD: Advanced Cardiovascular Research Fellowship - Northwestern University
Ramsey Wehbe, MD: McCormick School of Engineering, Artificial Intelligence Fellow - Northwestern University

2018-19
Arif Jivan, MD: Interventional Cardiology Fellowship - Northwestern University
Stephen Kidd, MD: Interventional Cardiology - Cleveland Clinic
Joseph Knapper, MD: Interventional Cardiology - University of Minnesota
Ravi Patel, MD: Advanced Cardiovascular Research Fellowship - Northwestern University
Anna Pfenniger, MD: Cardiac Electrophysiology - Northwestern University
Erin Unger, MD: Interventional Cardiology Fellowship - Northwestern University
Lowie Van Assche, MD: Interventional Cardiology Fellowship - Northwestern University

2018-17
Gregory Aubert, MD: Academic Faculty at Loyola University
Ethan Kosova, MD: Interventional Cardiology Fellowship - Northwestern University
Kristoff Olson, MD: Clinical Practice - Ventura County Medical Center
Anjan Tibrewala, MD: Advanced Heart Failure and Transplantation Fellowship - Northwestern University
Sirish Vullaganti, MD: Advanced Heart Failure and Transplantation Fellowship - Northwestern University
Jeremiah Wasserlauf, MD: Cardiac Electrophysiology - Northwestern University
Our rigorous subspecialty training allows fellows to gain experience in all areas of cardiology, and fellows go on to a wide variety of successful professional careers after their completion of cardiology training.  Our fellows move on to a broad range of careers, such as pursuing super-fellowship in any of the various subspecialties within cardiology, to pursuing dedicated research training, to faculty positions.  Fellows have even created their own super-fellowship based on unique interests, such as the Women's Health and Cardiovascular Imaging Fellowship (new as of 2021).  See where fellows from the past 5 years ended up!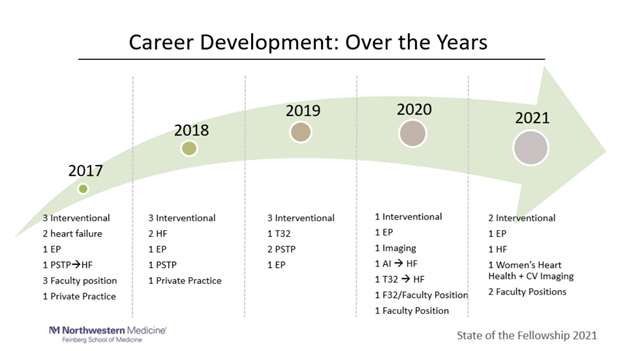 The Division of Cardiology has a robust diverse faculty. To become better acquainted, click
here
.
Use our interactive map to find campus buildings and locations, get directions and track campus shuttles.
More Information
Further program details, including our housestaff manual and a sample training contract, are available on our McGaw Medical Center of Northwestern University site. Likewise, we recommend reading through our FREIDA listings:
Cardiology: 141-16-21-090
Electro-physiology: 154-16-31-017
Heart Failure: 159-16-10-22
Interventional Cardiology: 152-16-21-011
Contact Us
Heather Munn
Program Coordinator
Cardiology

312-695-0070
hmunn( at )nm.org
Physician-Scientist Training & Resources
We offer a wide range of resources, mentorship opportunities and formal training programs to help our residents and fellows excel as physician-scientists. Explore all of the resources and hear from housestaff who are making research a major part of their career development plans.
Visit the Starzl Academy Site