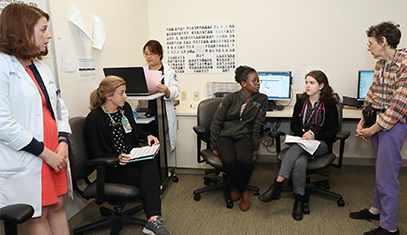 Education
There are five core components of our formal educational program for palliative care fellows:
A regional fellows' conference consisting of a monthly half-day conference with all Chicago-area palliative care fellowships.
Weekly fellows' conference consisting of clinical topics, case conferences, journal clubs and reflective reading.
Weekly palliative care/hem-onc conference during the summer focusing on supportive oncology.
A three-day intensive communication skills training retreat in the fall.
A longitudinal spirituality curriculum
Reinforcing our formal didactic curriculum, fellows are an integral part of our interdisciplinary team, which relies upon team members from multiple professional backgrounds to explore and address the medical, psychosocial, spiritual, cultural, and socioeconomic influences on every patient's (and family's) experience of serious illness.  Fellows develop their clinical skills over time by working alongside members of the team, continuously reflecting upon areas for improvement, and by collaborating with colleagues across the institution and region to seek the best goal-consistent outcome for each patient and family.