Pulmonary Disease & Critical Care Medicine Fellowship Program
The fellowship program in Pulmonary Disease & Critical Care Medicine at the McGaw Medical Center of Northwestern University provides both a broad-based clinical experience and rigorous research training. Completion of the three-year fellowship fulfills the requirements for certification by the American Board of Internal Medicine (ABIM) in both Pulmonary Disease and Critical Care Medicine. Additional training beyond three years is encouraged for those seeking investigative research careers. The program is designed to prepare physicians for careers in academic medicine.
The training program is based at Northwestern Memorial Hospital and the Jesse Brown Veterans Affairs (VA) Medical Center. Northwestern Memorial Hospital is the principal teaching hospital for Northwestern University's Feinberg School of Medicine and serves as the primary site for clinical training in the Pulmonary and Critical Care Medicine Fellowship Program. Northwestern Memorial Hospital has 900 total beds, 150 intensive care unit beds, and features comprehensive, state-of-the-art medical and surgical programs in every specialty and subspecialty. The Jesse Brown VA Medical Center is a 250-bed facility with 24 intensive care unit beds. The research laboratories of the Division of Pulmonary and Critical Care Medicine are located at the newly constructed Louis A. Simpson and Kimberly K. Querrey Biomedical Research Center, immediately adjacent to the medical center's major clinical facilities.
Take a look below for a day in the life of a Northwestern Pulmonary Disease & Critical Care Fellow! You're also invited to explore our blog here.
Our Fellowship Program provides rigorous training in clinical pulmonary and critical care medicine, and cutting-edge basic lung biology and translational/clinical investigation. The program is fully accredited by the Accreditation Council on Graduate Medical Education (ACGME). The accredited program is three years in length; extended training beyond this term is available for those seeking academic careers focused on research.
The first year of the program is devoted to clinical training, encompassing inpatient and outpatient pulmonary medicine and intensive care medicine. During the initial year, fellows receive extensive training in pulmonary procedures, including but not limited to, bronchoscopy, thoracentesis, chest tube placement, airway management, right heart catheterization, ECMO management, and performance and interpretation of pulmonary function tests. The second year of the program is devoted to original research, which the fellow carries out under the direction of a faculty mentor and other research advisors. The third year of training involves a mix of continued research and advanced clinical training, tailored to the fellow's individual career trajectory. Each fellow maintains a continuity outpatient clinic ½ day per week for the duration of the fellowship.
The educational curriculum also includes a robust didactic curriculum. A sample of our conferences includes pulmonary and MICU morning report, journal club, M&M, grand rounds, ICU quality outcomes, research conference, and subspecialty specific conferences such as ECMO and interstitial lung disease conferences. We have a robust faculty-led Academic Half Day once monthly for which all fellows are relieved from clinical service to attend. These sessions are interactive and cover various core topics within the specialty. Fellows have protected time to attend and present at our clinical and research conferences throughout the three years.
Simulation is also an important component of our fellowship. We provide simulation training for bronchoscopy, mechanical ventilation, point-of-care ultrasound, thoracentesis, chest tube placement, airway management, and massive hemoptysis. We also use simulation training for communication skills and team training. Additionally, our fellows attend a number of hands-on formal courses external to our institution. To learn more about the Northwestern Simulation Center, click here.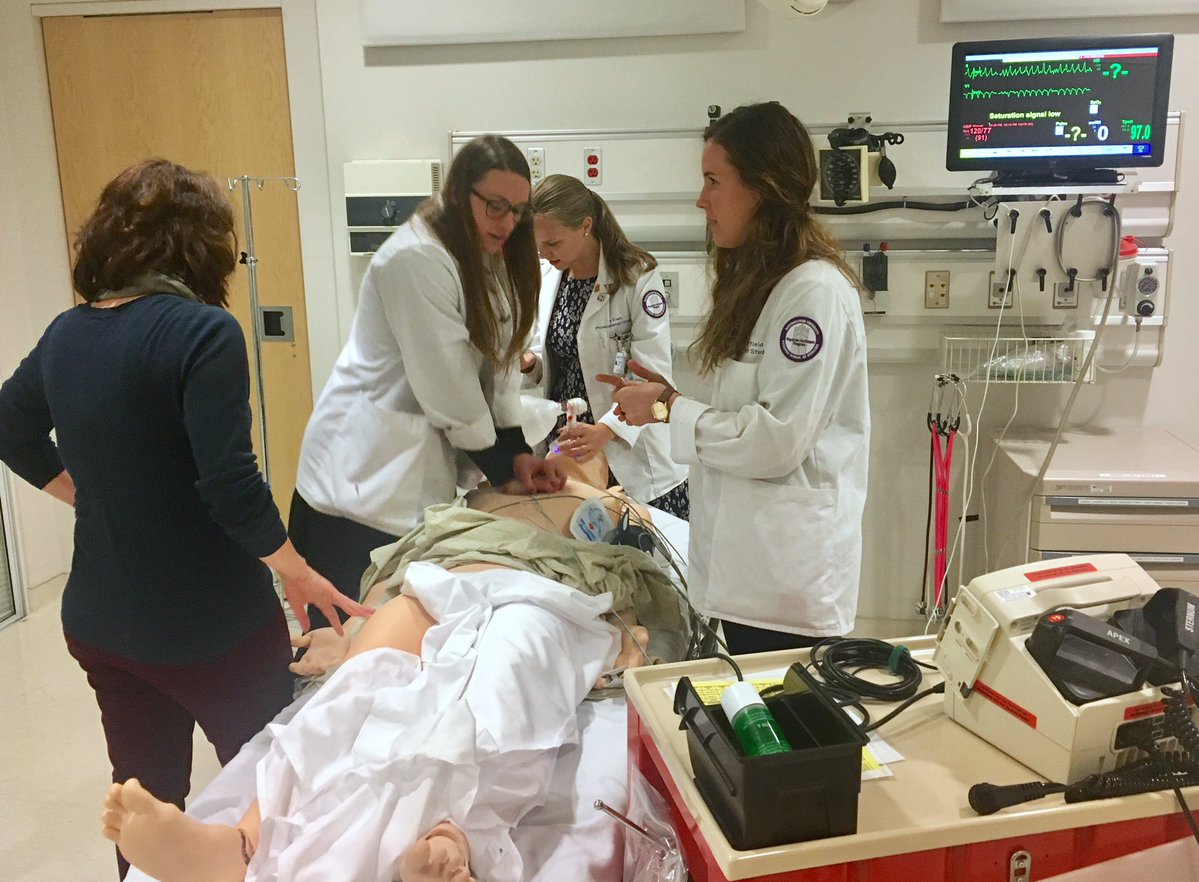 In an effort to broaden the educational experience of our fellows, we also offer clinical scholar programs in bioethics, global health, health equity and advocacy, and medical education. Additional information is available here. We support fellows who wish to pursue advanced degrees including a Master of Science in Clinical Investigation, a Master of Science in Health Services and Outcomes Research, and a Master of Science in Health and Biomedical Informatics. Finally, we off structured training in quality improvement through the Academy for Quality and Safety Improvement.
Approximately 75 percent of clinical training takes place at the Feinberg-affiliated Northwestern Memorial Hospital, 20 to 25 percent takes place at the Jesse Brown VA Medical Center, and up to five percent occurs at the Shirley Ryan AbilityLab. The demographics of the patient populations at the three institutions differ, as do their prevalent clinical problems, providing for a rich and varied training experience.
Fellows spend time on a wide variety of clinical rotations. An example of the clinical rotations by year is available here.
Additional program highlights:
Each fellow completes at least 4 weeks on an Interventional Pulmonary/Chest Procedure Service rotation
Fellows rotate through multiple outpatient subspecialty clinics including Asthma, Chronic Obstructive Pulmonary Disease, Cystic Fibrosis, Pulmonary Hypertension, Interstitial Lung Disease, Lung Cancer, Sarcoidosis, Sleep Medicine, Neuromuscular Disease/Non-invasive Ventilation, Occupational Lung Disease, and Lung Transplantation.
We have a busy lung transplant program
Fellows provide consultative care for patients receiving V-V ECMO
Fellows gain expertise reading pulmonary function tests
We provide in-house night coverage of the MICU with fellows and/or faculty. Fellows work a limited number of mandatory night shifts. Additional night shifts are compensated at a competitive moonlighting rate. Except for approximately 4 weeks spent at the VA, fellows do not take call from home.
Fellows maintain continuity clinics at both Northwestern and the Jesse Brown VA (attending each clinic on one half day every other week) throughout the three-year training program.
Scholarship is an integral part of fellowship training at Northwestern. Our training program works to create individualized mentorship and career development plans aligned to each fellow's scholarly interests and professional goals. This process begins during the first year of fellowship and is guided by frequent meetings with the Fellowship Program Director. An overview of the wide range of projects pursued by our current fellows is available here.
For physician scientists, the Division of Pulmonary and Critical Care Medicine is home to numerous grant-funded research programs in both basic investigation in lung biology and translational/patient-oriented research. Interested fellows are encouraged to join our Lung Sciences Training Program which provides multifaceted longitudinal research training. A sampling of recent publications from training program faculty is available in the faculty profiles section of this website.
For fellows interested in quality improvement, structured training is available through the Academy for Quality and Safety Improvement. Fellows pursuing careers in medical education are encouraged to complete the Feinberg Academy of Medical Educators Medical Education Certificate Program, and take advantage of the wide range of teaching opportunities available through the Feinberg School of Medicine.
Northwestern offers numerous advanced degree programs which can be integrated into a fellow's career development plan. These include a Master of Science in Clinical Investigation, Master of Science in Health Services and Outcomes Research, and a Master of Science in Health and Biomedical Informatics.
All of our fellows are expected to be active members of both the local and national scientific community. This includes presentations at Divisional academic conferences, participation in national meetings, and publication of manuscripts in the peer-reviewed scientific literature.
Our program is committed to fostering a diverse and inclusive training environment. Additionally, we aim to provide our fellows with the educational experiences and mentorship necessary to advance DEI within the field of Pulmonary and Critical Care Medicine (PCCM) and beyond. Our longitudinal Academic Half Day didactic curriculum intentionally links sessions on disparities within the field of PCCM to foundational clinical content. Additionally, our Wednesday Divisional Grand Rounds conference series provides regular opportunities for all members of the Division to come together and discuss important DEI-related topics. These include sessions on allyship, equity in recruitment, and updates from our Divisional DEI working group.
We are proud that our faculty lead DEI initiatives throughout the health system. This includes an Assistant Dean of Medical Education at the Feinberg School of Medicine and the Co-Director of the Department of Medicine Health Equity and Action Training Academy. Many of our faculty serve as mentors for the Kimberly Querrey Pulmonary and Critical Care Summary Research Program – a longstanding program that aims to provide rigorous research experience for high school and undergraduate students in demographic groups that are underrepresented in science.
Our fellows have published high-impact scholarships focused on health care disparities and we are committed to providing current and future fellows the support and resources necessary to pursue community engagement, advocacy, and DEI-related research.
For more information on Northwestern's commitment to diversity please see the following resources:
Applicants for fellowship must be enrolled in or have completed training in an ACGME-accredited internal medicine residency training program. Internal medicine residency training must be completed successfully prior to appointment in the fellowship training program.
The fellowship program provides combined training in pulmonary and critical care medicine, leading to eligibility for American Board of Internal Medicine certification in Pulmonary Disease and in Critical Care Medicine. We do not offer single-specialty training in only pulmonary disease or only critical care medicine.
The ECFMG sponsors J-1 visa holders at the Department of State where McGaw is the sponsoring institution, as long as the program is ACGME-accredited. Fees for J-1 visas are the responsibility of the applicant, and not the program.
Applications to the Northwestern Pulmonary Disease & Critical Care Medicine Fellowship are accepted exclusively through the Electronic Residency Application Service (ERAS). To apply, please visit the ERAS website and follow the directions for Fellowship Applicants. Applications and related documents submitted without the use of ERAS will not be considered. The deadline for receipt of applications for training beginning in July 2024 (positions to be filled in the December 2023 Match) is July 19, 2023. The Northwestern Fellowship Program participates in the National Resident Matching Program (NRMP) Medical Specialties Matching Program. Pulmonary and Critical Care Medicine fellowship applicants must register with National Resident Matching Program and agree to the terms of the NRMP Match.
To complete your application, the following documents are required:
A letter of recommendation from your Internal Medicine Residency Program Director or Department Chairperson.
At least two (but not more than four) additional letters of recommendation. These should be from clinical faculty and/or research mentors who know you and your work well. Ideally, at least one letter should be from a senior member of the faculty in pulmonary and critical care medicine at your institution.
A personal statement describing who you are, why you have chosen to pursue training in pulmonary and critical care medicine, and your current thoughts about your future career path.
Your curriculum vitae.
Original reports of your USMLE (or COMLEX) scores.
Medical school dean's letter and medical school transcripts.
Applicants selected for interview will be invited by e-mail. Interviews for positions to be filled in the December 2023 Match will be conducted during August, September, and October 2023.
Class of 2023:
Class of 2022:
Class of 2021:
Class of 2020:
Class of 2019:
More Information
For additional reference, you can consult our
FREIDA
listing (program 156-16-21-081)
Physician-Scientist Training & Resources
We offer a wide range of resources, mentorship opportunities and formal training programs to help our residents and fellows excel as physician-scientists. Explore all of the resources and hear from housestaff who are making research a major part of their career development plans.
Visit the Starzl Academy Site