Quality Improvement and Patient Safety
Quality improvement and patient safety initiatives permeate the inpatient and outpatient setting that residents work in at Northwestern Medicine. The residency program has a strong focus on quality improvement and patient safety ranging from experiential learning through clinical care to unique quality projects and hospital committee work. As our healthcare system rapidly evolves, we have been able to adapt our educational curriculum to keep up with the changes.
For residents set on a career path in quality improvement and patient safety, Northwestern offers a master's degree in Healthcare Quality and Patient Safety.
 
For more information about education in Quality Improvement and Patient Safety for Northwestern residents, contact Aashish Didwania, MD, residency program director.
 Academy for Quality and Safety Improvement
A featured program for residents interested in quality improvement is the Academy for Quality and Safety Improvement (AQSI). AQSI is a six-month professional development program designed to equip healthcare professionals with the knowledge and skills needed to effectively lead quality improvement. 
Residents and fellows at any level are able to join teams focused on a particular clinical area. Individuals join teams of shared interest, participate in workshops and didactics and develop a quality improvement project over the course of an academic year. Here is a listing of recent and current residents who have participated:
ASQI Projects 2019-2020

Team Members

Internal Medicine Teams

Decrease opioid prescriptions from hospitalist units
John Bowers, Jordan Gavin, Jasleen Ghuman
Increase the use of prone positioning in patients with severe Acute Respiratory Distress syndrome (ARDS)
Elisa McEachern, Jamie Treadway (Chief Resident), Eleanor Yang
Decrease hospitalization and technique failure in home dialysis outpatient unit
Harini Gurram
Decrease the CT utilization for inappropriate PE studies
Cece Johnson-Sasso
Decrease the prevalence of primary hyperalsosteronism in patients with hypertension
Philip Speigel

ASQI Projects 2018-2019

Team Members*

Pulmonary and Critical Care Team

Improving documentation and timeliness of shared decision making meetings with patients and surrogate decision makers in the MICU

ASQI Team Members: Quinn Halverson, Matt Peller

Internal Medicine Teams

Acute alcohol withdrawal syndromes in patients admitted to general medicine inpatient units
ASQI Team Members: Jasleen Ghuman, Nisha Raiker
Crisis Management guidelines
AQSI Team Member: Dom Farina 
Improving HCC screening at the VA
AQSI Team Member: Erin Cleveland 
Reducing the amount of interruptions of patients during the night
AQSI Team Members: Eleanor Yang, Elissa McEachern, Lauren Lee
Communication and collaboration between general medicine and consulting services
AQSI Team Member: Jordan Gavin

Medicine & Emergency Medicine Team Collaborations

Repeat dosing of antimicrobial agents on sepsis patients boarding in the ED
AQSI Team Member: Jamie Treadway

AQSI Projects 2017-2018

Team Members

Hematology/Oncology Teams 

Decrease unnecessary C. difficile testing in patients undergiong a Hematopoietic Stem Cell Transplant (HSCT)
AQSI Leader: Kehinde Adekola
AQSI Team Members: Katie McGowan, Briana Steffenhagen, Sarah Sutton, Daniel Wojenski, Viki Barr, Joanna Varkos, Chao Qi, Asra Salim, Edra Sierra, Jessica McClure, Nicolas Simon

Pulmonary and Critical Care Teams 

To decrease the use of broad spectrum antibiotic use on intubated MICU patients
AQSI Leader: Chiagozie Pickens
AQSI Team Members: Joe Bodkin, Nicole DeCredico, Madeleine Heldman, Stephanie Katcheriean, Laura Kelly, Natalia Molinas, Sankit Thakkar, Bryan Lizza, Joseph Paonessa 

Nephrology Teams 

Improving the care of ESRD patients diagnosed with upper extremity DVT
AQSI Leader: Adam Safdi
AQSI Team Members: Thomas Byrd, Courtney Furlough, Alex Leidner, Christine Limonte, Shamsa Baaj, Yuan Cao, Patricia Astleford

AQSI Projects 2016-2017

Team Members

Medicine, Cardiology, & Hospital Medicine Collaborations

Improving understanding of and adherence to discharge cardiac medications for patients leaving the hospital with acute heart failure
AQSI Leader: R. Kannan Mutharasan, Gopi Astik, Maya Defoe
AQSI Team Members: Ansel Amaral, Mansi Bhat, Baljash Cheema, Hawkins Gay, Neta Linnville, Kaleigh Nolan, Amanda Vlcek, Quentin Youmans

Medicine & Pulmonary & Critical Care Team Collaborations

Improving end-of-life care for patients who are suffering from respiratory illnesses
AQSI Leader: Alexandra Frogameni and Susan Russell
AQSI Team Members: Lauren Chiec, Sarah Chuzi, Adeboye Ogunseitan, Melanie Smith, Michael Washingon
Implementing daily spontaneous awakening trials for patients on continuous sedatives while mechanically ventilated in the medical intensive care unit (MICU)

AQSI Leader: Joseph Paonessa and Alexandra Frogameni
AQSI Team Members: Victoria Behrend, Christopher French, Elizabeth Short, Keerthi Ranganath 

AQSI Projects 2015-2016

Team Members

Emergency Medicine & Medicine Team Collaborations

Guideline-based care of cellulitis beginning in the ED
AQSI Leader: Ashfaq Ahmad
AQSI Team Members: Gopi Astik, Darren Boyd, Adnan Hussain, Andrew Moore, Heather Provencher, Margaret Ragland, Deepti Singhvi
Proper utilization of blood cultures for bacteremia in the ED and appropriate use of re-culturing on the general medicine floor
AQSI Leader: Grant Scott and Michael Angarone
AQSI Team Members: Eric Cantey, Erica Donnan, Abra Fant, Eric Hansen, Jordan Kaylor, Vanessa Kiepura

Medicine Teams

Improving patients' understanding of the heart failure disease process and managing the disease
AQSI Leader: Corrine Benacka
AQSI Team Members: Farah Barada, Alexandra Goodwin, Jacqueline Jimenez, Abbey Lichten, Chiagozie Ononye
Improving vaccination practices for heart transplant candidates and recipients
AQSI Leader: Ellie Sukerman
AQSI Team Members: Mary Alice Ackerman, Amy Chen, Michelle Huber, Valentina Stosor, Stephanie Wedlake, Jane Wilcox

Surgery & Medicine Team Collaborations

More efficiently evaluate and care for patients referred for lung transplant evaluation
AQSI Leader: David Odell
AQSI Team Members: Sangeeta Bhorade, Jennifer Wright, PJ DeCamp, Cindy Parker
*2018-2019 Team Members List represents only IM residents who participated in each group. Click here for a full AQSI member list.
 Northwestern Memorial Hospital Quality Committees
Residents are actively recruited to participate in hospital quality committees and projects. Each quarter, committees are advertised to program directors who then send the information to residents. Committees offer a learning opportunity into the operations of hospital systems and large quality initiatives ranging from appropriate use of blood products to fall prevention. Residents often serve as front-line clinician consultants and in some instances take a lead in committee work that turns into a research project. Below is the recent listing of quality committees.
| | | |
| --- | --- | --- |
| Committee | Purpose | Internal Medicine Representation |
| Department of Medicine Quality Management Committee | Main quality committee for the Department of Medicine | Patrick Campbell, MD; Peter Glynn, MD;  Michael Jiang, MD; Amanda Krause, MD; Elyse Linson, MD |
| Sepsis Quality Committee | Subcomittee of Medicine and ED quality committees focused on improving care of the patient with sepsis | Michael Jiang, MD; Amanda Krause, MD; Sneha Thatipelli, MD; Todd Vankerkhoff, MD |
| Clinical Care Evaluation Committee | Reviews patient safety events | Patrick Campbell, MD; Elyse Linson, MD |
| Glycemic Control Committee | Providing better care for our diabetic patients | Kaysey Coyne, MD; Sally Friedman, MD |
| Peer Review Committee | To review clinician practice | 3 residents (protected) |
| Nets (Error Reporting) Working Group | Trends in medication-related nets or nets representative of front line issues | Sarah Hale, MD; Caitlin Visek, MD |
| Shock/ECPR (VA ECMO) Committee | Multidisciplinary group working to improve the care of patients on VA ECMO | Peter Glynn, MD; Martin Gruca, MD; Yossi Schwartz, MD |
| Lung Rescue (VV ECMO) Committee | Multidisciplinary group working to improve the care of patients on VV ECMO | CeCe Johnson-Sasso, MD |
 Structured Interdisciplinary Rounds
All residents rotate on the general inpatient wards at Northwestern Memorial Hospital. The wards are geographically localized where clinical teams work only on one to two wards (30 beds per ward), thus enhancing teamwork between clinicians and the rest of the healthcare team. In addition to geographic localization, all residents participate in structured interdisciplinary rounds. These rounds consist of the entire team in one room: senior resident (or intern), the entire wards nursing staff, pharmacy, physical therapy and social work. The team's resident runs their list of patients covering a checklist of inpatient quality measures ranging from IVs and indwelling urinary catheters to telemetry needs to discharge planning. Along with improved care, the experience is highly educational, as the full healthcare team has face-to-face communication and can help each other solve clinical needs and systemic issues. View a video about SIDR on the teaching service from the Center for Education in Medicine. 
 Northwestern Internal Medicine Residency Program Quality Improvement and Patient Safety Curriculum
Faculty Directors: Rachel Cyrus, MD, and Aashish Didwania, MD
Goals and Objectives: 
Prepare physicians to be leaders in the practice of safe, high-quality, patient-centered medicine
Foster a culture that encourages proactive reporting, analysis and innovation
Teach key principles of patient safety, quality improvement and delivering high-value care
Key Concepts: 
| | | |
| --- | --- | --- |
| Patient Safety  | Quality Improvement | High-Value Healthcare |
| Impact of medical error | Types of measures | Systems and principles (handoffs and transitions of care) |
| Error reporting | Analysis of care/metrics | Value and equity |
| Analysis of failures/error reduction strategies | Improvement methods | Politics and law |
Curriculum by training year
PGY1
PGY2
PGY3

Patient Safety 

IHI MOdule PS101 & 104
Handoffs
SIDR backup
RCA Conference
Nets Reporting
M&M conference participant

Team Training in ACLS
M&M conference leader*
Quality committees*
SIDR
RCA Conference
Nets Reporting
M&M conference participant

M&M conference leader*
Quality committees*
SIDR
RCA Conference
Nets Reporting
M&M conference participant

Quality Improvement

IHI module QI 101
SIDR backup
Quality newsletter
Didactics during Intern Academic Half Day
DMAIC participant*
Metric review

SIDR
DMAIC lead*
AQSI participant* 
Quality newsletter
DMAIC participant*
Metric review

SIDR
DMAIC lead*
AQSI participant* 
Quality newsletter
DMAIC participant*
Metric review

High Value Healthcare

Value based care conferences

Social determinants of health
Value based care conferences

Social determinants of health
Value based care conferences
*Denotes optional activity and advanced opportunity


Inpatient QI/PS Training details:

Lectures/Conferences:

Monthly Morbidity and Mortality Conference
Quarterly Root Cause Analyses Morning Reports
Quarterly High Value Care Morning Reports
Quarterly QI/PS-centered Noon Conference
Monthly NMH-wide Patient Safety Grand Rounds
Select Department of Medicine Grand Rounds are focused on QI/PS and systems based practice
Newsletter: 
Quarterly and includes current quality efforts, inpatient and outpatient metrics, value based care tips, and ways to get involved
Metrics: 
Inpatient and outpatient panel quality metrics provided to every resident on units and in the newsletter
NETS reports: 
Require minimum 1 per resident per year
Online modules: 
IHI QI101, PS 101, PS104 as an intern
QI project involvement/advanced training: 
DMAIC leadership or participation, AQSI certificate 

Mapping to ACGME Milestones: 


ACGME Core Competency

Developmental Milestone

NM Quality Curriculum

Practice Based Learning 

Learning and improving via audit of performance

Improve the quality of care for a panel of patients 

Analysis of care/metrics 
Types of measures
Improvement methods

Systems Based Practice 

Works effectively with other care providers and settings
Improving health care delivery 
Cost-effective care for patients and populations

Works effectively within:

Multiple health delivery systems
An interprofessional team 

Practices cost-effective care

Systems and principles of high value care
Impact of medical error
Error reporting
Analysis of failure/error reduction strategies
Improvement methods
Value and equity 
Politics and law

Interpersonal and Communication Skills

Communicate effectively with physicians, other health professionals and health related agencies 

Transitions of care

Professionalism 

Respect the dignity, culture, beliefs, values, and opinions of the patient
 Quality Improvement Curriculum in Resident Continuity Clinics
The majority of internal medicine residents maintain continuity clinics at both the Northwestern Medical Faculty Foundation academic practice and at the Veteran's Administration site. Residents build a panel of patients over time through self-referral and inpatient to outpatient transitions. Standard quality measures for primary care practices in the United States are given on a quarterly basis to residents' continuity panels both to guide high-quality care to their patients, but also to serve as an educational curriculum to discuss primary care measures and concepts in quality improvement, such as public reporting and pay-for-performance. Measures are discussed in a quarterly quality conference and directly with mentors who review reports with residents. Topics from the conference have included colon cancer screening, aspirin for primary prevention, bone health, pay for performance, quality as research and a study of VA quality initiatives.

Residents have consistently provided high-quality care in CAD, CHF, HTN and DM that matches attending practices and is comparable to some of the highest quality ratings in primary care in the country. Preventative services remain an area of improvement but have also been found to reflect a more complex patient population that residents care for.
Some residents have maintained an interest in community health and choose to do one of their two continuity clinics at one of three community health clinics. Opportunities for quality projects in the community health setting are available with mentors in healthcare disparities and health literacy. Read more about a resident project improving patient education materials at a local community health clinic.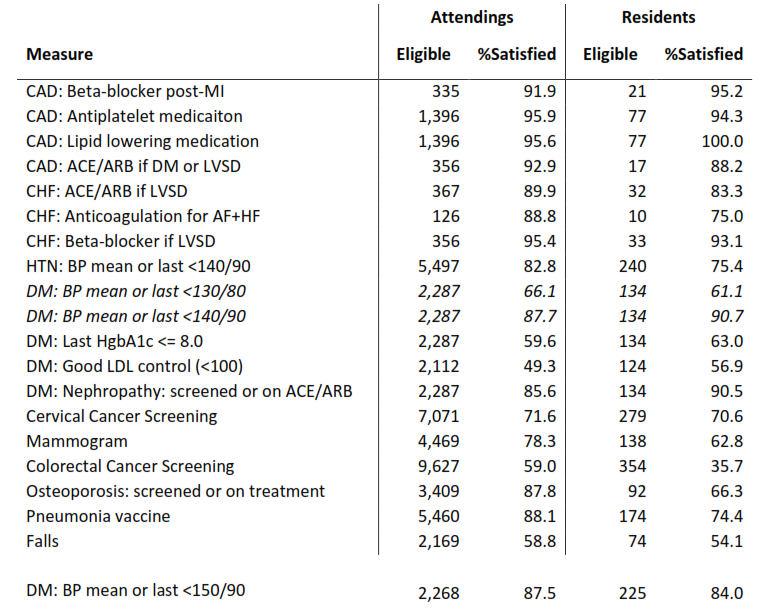 Residency Quality and Safety Quarterly Newsletter
View our Winter 2019 newsletter here. 
View our Summer 2019 newsletter here. 
View our Spring 2019 newsletter here.
View our Fall 2018 newsletter here.
View our Spring 2018 newsletter here. 
View our Fall 2017 newsletter here.
View our Spring 2017 newsletter here. 
 Resources
Back to top