About Lewis Landsberg, MD (1938-2021)
Dr. Lewis Landsberg graduated summa cum laude from Williams College in 1960 and from Yale University School of Medicine in 1964. Following residency training in internal medicine at Yale-New Haven Hospital, he pursued a research fellowship at the NIH in the laboratory of Nobel Laureate Julius Axelrod.
After two years on the faculty of Yale, Dr. Landsberg was recruited to Harvard Medical School, where he was promoted to professor of Medicine in 1986. In 1990, he joined the faculty of Northwestern University as the Irving S. Cutter Professor and chairman of the Department of Medicine at the medical school and Physician-in-Chief at Northwestern Memorial Hospital. In August 1999, Dr. Landsberg was appointed Vice president for Medical Affairs at Northwestern University and dean of Northwestern University Medical School. During his tenure, he appointed eight new center and institute directors along with 17 new department chairs and extramural research support doubled while space devoted to research increased by more than 70 percent. On the occasion of his retirement as dean of Northwestern Memorial Hospital, its medical staff and Northwestern Medical Faculty Foundation made an extraordinary gift of endowment to create and name the Lewis Landsberg Deanship.
Dr. Landsberg was also the Irving S. Cutter Professor of Medicine, Dean Emeritus, and director of the Northwestern Comprehensive Center on Obesity. The author of over 230 publications, he had an international reputation in the fields of the sympathetic nervous system, the regulation of metabolism, hypertension and obesity. He also wrote two books: "1000 Internal Medicine Pearls" and "Catecholamines," summarizing his clinical experience and some of his fundamental research. Furthermore, he served as co-editor on the remarkable compendium of recollections on the unique leadership of his most important mentor and one of the 20th century giants of Internal Medicine, Professor Paul B. Beeson, MD. He was a member of numerous distinguished professional societies and has received many awards and honors, including the Franz Volhard Award from the International Society of Hypertension, election to Fellowship of the American Association for the Advancement of Science and appointment as Master of the American College of Physicians.
Dr. Landsberg officially retired on October 15, 2020, from his position as the Irving S. Cutter Professor of Medicine, Dean Emeritus. He continued his involvement with the medical school as an active member of the Landsberg Society after his retirement. Lewis Landsberg passed away on September 23, 2021.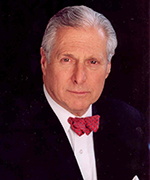 Join Us
Become a member of the Landsberg Society and keep abreast of upcoming events.
Contact Us
To learn more about the Landsberg Society, please contact William Marasco at 312-694-1697.