Dear Students,

The 2021-2022 interview season for Internal Medicine Residency brings challenges we hope to transform into creative opportunities for you to learn about our program. We are committed to an all virtual experience to keep things equitable, affordable and safe for you. This will be our second year hosting an all virtual experience and we are confident we will be able to share, in detail, our program curriculum and culture with you. 
Additionally, this year our program is participating in the supplemental application program as a means to help the national matching process improve. We will be observing this new process with you and hope it promotes more students getting equal access to interviews. 
This rest of this page offers a few concentrated items to get you started. 

We encourage you to follow us at our social media channels:
In an effort to help you learn more about the resident experience at Northwestern, we've created videos highlighting our conferences, simulation curriculum and fellowships. 
Morning Report and Noon Conferences
Other important items:
Our mission is to train academic Internal Medicine physicians with a focus on leadership in education, research, quality/safety, equity and advocacy. We encourage you to review our website to learn more about our program.
While COVID has changed life and our program in many ways, we have adapted and in many ways thrived. Our hospital has been successful in protecting resident safety through hospital policies, adequate supplies of PPE, COVID testing and provider staffing. We have supported the wellness of our residents by including their voices and decision making in how we have navigated the COVID surges of 2020-21. While challenges remain with the delta variant, our vaccination rates have been high and we have been able to return to most in-person activities.  We are proud of our values and efforts and believe this is reflected in our resident's wellness and education.
You are choosing medicine at a time when physicians are needed more than ever.  We are looking for trainees that share our motivation to learn and serve.  We thank you for your interest in our program.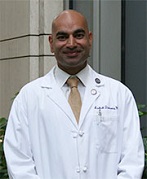 Aashish K. Didwania, MD
Associate Professor of Medicine
Program Director - Internal Medicine Residency
Vice Chair - Education
---
How to Apply
Applications for residency should be sent only through the Electronic Residency Application Service. Our program is listed as Northwestern/McGaw/NMH/VA-IL.

Relevant program numbers are:
Applications should be supported by the following documents:
Dean's letter
Transcript including first quarter senior grades
Chair of Medicine's letter or a letter from their designee. We accept Standard Letters of Evaluation (SLOE) per the Alliance of Academic Internal Medicine guidelines.
At least one letter of recommendation from an internist or subspecialist who has worked closely with the applicant
We require USMLE Step 1 scores to apply and Step 2 scores in order to begin residency training.
Preparation for the PGY1 year is assessed carefully on each applicant. We strongly recommend completion of a medicine subinternship and a MICU rotation in the senior year.
You must be a current senior or graduate of an LCME-approved medical school (or osteopathic equivalent) or an international graduate with a valid ECFMG certificate and valid visa or permanent resident status. All appointments for residency are subject to ability to obtain an unrestricted Illinois medical license.
An interview is required for admission. Interviews are invitation only and are conducted November through January.
The deadline for receipt of application is October 1, 2021.