Division Chief's Message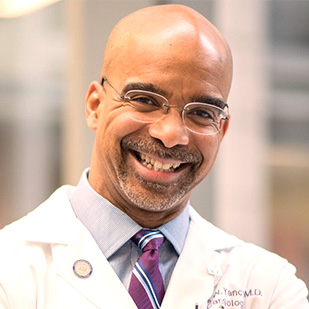 As the Chief of Cardiology at Northwestern University Feinberg School of Medicine, I am delighted to welcome you to this website.
Our Division tirelessly pursues a trajectory of excellence. On an annual basis, we rank among the top 20 cardiology and heart surgery programs in the nation (USNWR). We believe that our academic trajectory, clinical expertise and comprehensive education programs are unparalleled. Scholarship, leadership and excellence with humanity mirror our DNA.
As a top-tier Division of Cardiology, we hold the ethos of excellent patient care as our highest priority. Our unwavering goal is to consistently deliver expert clinical care in our thriving hospital network anchored by Northwestern Memorial Hospital and extended to our affiliated Northwestern Memorial Healthcare System. We strive to extend the fund of knowledge in cardiovascular medicine via a robust research portfolio. We embrace the responsibility to educate current and future leaders of cardiovascular medicine, and we aspire to offer exceptional continuing medical education programs.
We are most especially enthused about the quality of our Cardiovascular Fellowship Training programs. We have more than 35 cardiology fellows pursuing training in general cardiology along with subspecialty training in electrophysiology, heart failure, imaging and interventional cardiology. We hold two T32 training grants: one in prevention and one in molecular cardiology. We offer additional post graduate degree programs in clinical investigation, bioinformatics, public health and most recently, artificial intelligence.
Many of our faculty members are national and international leaders in cardiovascular medicine who cover the full breadth of cardiovascular medicine including risk factor modification, acute coronary syndromes, atrial and ventricular arrhythmias, valvular heart disease, all iterations of heart failure and advanced cardiovascular imaging. Many of the national clinical practice guidelines are authored by members of this faculty. We are home to JAMA Cardiology and PACE. Our faculty includes former presidents of the American Heart Association and the American Society of Echocardiography; members of the American Society of Clinical Investigation (including the current President of the ASCI); leaders in the American College of Cardiology, Heart Rhythm Society and the American Society of Nuclear Cardiology; members of the American Society of Clinical Investigation; and membership in the National Academy of Medicine. Several of our faculty are cited in the top 1% of all cited scientific authors, worldwide.
We have robust programs in genetic cardiomyopathies, infiltrative diseases, hypertrophic cardiomyopathies, and venous thrombotic diseases. Working with the Department of Preventive Medicine, we share an especially rich legacy of prevention, and continue to contribute substantially to the clinically relevant evidence targeting the reduction of cardiovascular disease.
We are excited about our national clinical leadership roles in transcutaneous aortic valve replacement, mitral valve repair, advanced therapies for advanced heart failure including heart transplant, all modalities of care for atrial fibrillation and acute heart failure. We lead the nation with the lowest 30-day mortality after admission for heart failure, and we are second in the nation for acute myocardial infarction mortality. Additionally, we have developed new risk models to determine the risk of heart failure, and we have identified novel applications of machine learning and business theory to better address and lower rehospitalization rates after episodes of acute heart failure. To that end, we are exploring innovative wearable technologies that will streamline the assessment of cardiovascular risk.
Our investigators are actively exploring provocative new cardiovascular clinical and translational science. We are leading large multi-institutional clinical trials in heart failure, valvular heart disease and atrial fibrillation. We have introduced the benefit of big data analytics (phenomapping) to better identify novel disease phenotypes that may lead to better therapies, and we have a well-established cardiovascular genetics program with expertise in the assessment of all forms of cardiomyopathies and the cardiovascular consequences of muscular dystrophy. We have also launched a T-1 translational science center for first-in-man compounds, and we are among the first centers to pursue percutaneous treatment of the tricuspid valve and the placement of interatrial shunts for HFpEF.
Our basic investigators are exploring biological models that determine the cellular mechanisms of atrial fibrillation and potential gene therapy targets; explore the role of dietary inorganic phosphates on ventricular remodeling; and consider the complex interplay of iron metabolism and cardiac homeostasis. We are the top recipient, nationally, of research support from the American Heart Association and now hold six strategically focused research network grants. Our investigators are on the leading edge of aging theory and are beginning to explore small molecule development that may reduce the burden of chronic diseases that are largely driven by age-related changes. All of these active areas of investigation are potentially poised to change the practice of cardiovascular medicine.
We believe our excellence and experience as doctors, educators, investigators and leaders of cardiovascular medicine provide an unparalleled environment in which we can advance cardiovascular medicine.