Division Chief's Message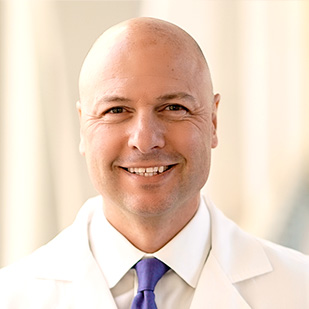 The faculty of the Division of Gastroenterology and Hepatology at Northwestern University Feinberg School of Medicine is proud to be ranked No. 9 in the country by U.S. News & World Report. Our diverse faculty have research and clinical interests that include esophageal disease, swallowing disorders, inflammatory bowel disease, pancreatic/biliary disease, liver disease, liver transplantation, colorectal cancer screening, high-risk colon cancer prevention, irritable bowel syndrome (including related health psychology services) and nutrition/intestinal absorption disorders. Our team also has a deep commitment to our community and we have developed various programs to provide pro bono care to underserved populations and are dedicated to working in the community to become role models for the Chicago youth interested in careers in medicine.
The Digestive Health Center (DHC) at Northwestern Medicine
The division has a robust clinical practice that resides within our new Digestive Health Center led by Stephen Hanauer, MD, (medical director) and Scott Strong, MD, (surgical director). The center is a true collaborative effort between gastroenterologists, hepatologists, surgeons, psychologists and dieticians working side-by-side in multidisciplinary clinics that are led by international leaders in the field. These clinics provide an efficient mechanism with same day diagnostic testing and endoscopy that is facilitated by a real-time integrated and collaborative approach. Our referrals come from all over the United States and the world and we have a network of hospitals across Illinois that helps us facilitate the delivery of care beyond our main academic medical center. Our program is at the forefront of using new approaches focused on telemedicine and development of virtual integrated practice units that bring the multidisciplinary approach to our referral doctors and out of state patients.

The Esophageal Center at Northwestern was founded by Peter Kahrilas, MD, and is the top referral center in the country for difficult esophageal cases and post-surgical complications. Additionally, the esophageal motility lab within the center has also been recognized as a top training program and has had visiting scholars from all over the world. Most technologies currently used to study and diagnose esophageal diseases have been developed at Northwestern University by John Pandolfino, MD. There is also a nationally recognized program within the Esophageal Center focused on eosinophilic disorders of the esophagus and gastrointestinal tract. Ikuo Hirano, MD, and Nirmala Gonsalves, MD, are nationally recognized investigators and have studied novel treatment approaches that range from new biologics to diet therapy. Srinadh Komanduri, MD, also leads a state-of-the-art Barrett's esophagus program that focuses on early detection of cancer and new treatments focused on ablation and endoscopic mucosal resection. Our program also has a strong foundation in understanding molecular mechanisms behind the various esophageal disorders through our basic science and translational program in the esophagus, which is led by Dr. Marie-Pier Tetreault, PhD.
We are national leaders in transplant hepatology and the management of complicated liver diseases. The Transplant Hepatology team is composed of ten faculty and is the busiest center in the Chicagoland area. The combined Transplant and General Hepatology program are housed in both the DHC and the Kovler Transplant Center. The faculty is composed of national thought leaders focused on every facet of hepatology. Laura Kulik, MD has developed an innovative multidisciplinary program focused on hepatocellular cancer and Josh Levitsky, MD is leading large-scale NIH trials focused on immunosuppression and tolerance. Other special interests include viral hepatitis, autoimmune hepatitis, cholestatic diseases and cirrhosis. The program is also supported by a vast satellite clinic network that extends access to patients across the entire region including all of Illinois, Northern Indiana and Wisconsin. Additionally, the liver program has a major basic science interest, and Richard Green, MD, has an active laboratory focused on the study of liver and biliary pathophysiology.
Our inflammatory bowel disease (IBD) program was developed by Stephen Hanauer, MD, a world-renowned expert in inflammatory bowel disease, and currently there are six dedicated faculty that manage complex referral cases using a multidisciplinary outpatient and inpatient service. The IBD program is also supported by a superb colorectal surgery program that specializes in complicated IBD surgery and colon cancer. Adam Stein, MD, is the director of the Digestive Health Center Nutrition program and is focused on complicated small intestinal disorders and nutrition therapy in IBD, cystic fibrosis, post-surgical complications and other chronic disease states requiring total parenteral nutrition. The nutrition progam is complimented by a robust double-balloon endoscopy program that focuses on bleeding of obscure origin.
Another unique aspect of the division focuses on the Behavioral Medicine program. This is a pioneering program that aims to incorporate behavioral interventions in all chronic gastrointestinal disorders, and our program is the epicenter for training in gut-directed behavioral interventions. The team is currently composed on 4 dedicated psychologists who have been at the cutting-edge of healthcare delivery and this team was one of the first Behavioral Medicine teams to integrate telemedicine into their practice. Our group has been involved in many National Institutes of Health–sponsored studies focused on these interventions in esophageal disorders, irritable bowel syndrome and inflammatory bowel disease. The Behavioral Medicine program is also a crucial component of the Neurogastroenterology and Motility Program led by Darren Brenner, MD. This program focuses on complicated irritable bowel disease, intestinal pseudo-obstruction and severe constipation and the program supports a national referral center for physiologic testing.
The DHC has one of the largest volume endoscopy centers in the country and it also houses our Pancreatitis Center of Excellence and advanced endoscopy program. The endoscopy unit has state-of-the-art equipment that is supported by our talented advanced endoscopy team led by Srinadh Komanduri, MD, with Rajesh Keswani, MD, leading our quality program and Aziz Aadam, MD, leading the experimental endoscopy program. The endoscopy lab is equipped to handle complicated endoscopic
procedures, such as complex ERCP, interventional endoscopic ultrasound, endoscopic mucosal resection, submucosal endoscopy, as well as endoscopic anti-reflux procedures. We have a strong quality and process improvement program across the Northwestern Medicine system and this has been a focal point for clinical research in the division. Our team has pioneered new Per-Oral Endoscopic Myotomy approaches to treat achalasia and gastroparesis and this is accomplished through a collaboration with our foregut and thoracic surgery teams.
Training and Research Opportunities
A major component of the division is focused on training the next generation of leaders in digestive diseases and our fellowship program is led by Dr. Leila Kia. Our trainees receive excellent clinical training from our specialty centers and our top-tier general academic gastroenterology team and they also benefit from a robust simulation program and carefully curated conference schedule. Our commitment to training is also evidenced by our strong junior faculty in the division and our focus on retention of our fellows. Through our multiple advanced fellowships in esophageal diseases, advanced endoscopy, inflammatory bowel disease, liver transplant and our excellent 3 year fellowship program, we have been able to mentor and retain multiple fellows into our division and healthcare system. As our health system continues to expand, we will continue to need to support this growth with talented faculty and we will continue to nurture our trainees into our future leaders. The division has a strong desire to continue to develop a diverse program that reflects the diversity of the city of Chicago. We are deliberate in our deep desire to be inclusive and to fight against health disparities and injustice.
Our fellows also have an opportunity to work within the division's laboratories, which include collaborations with investigators in the school's basic science departments and in clinical departments such as Surgery, Pathology and Pediatrics. Our division has a large research portfolio that includes NIH program projects and large multicenter NIH sponsored research trials. Our basic science laboratories are supported by a first of its kind Biorepository that links tissue and serum to robust clinical data and physiologic testing. We have also developed one of the first programs dedicated to Artificial Intelligence and Mathematics in Gastroenterology (AIM-G) through the Digestive Health Foundation and this program focuses on developing new diagnostic platforms and predictive models of disease.
In addition to our general gastroenterology fellowship, we offer a fourth-year liver transplant fellowship that capitalizes on our relationship with the Division of Organ Transplantation in the Department of Surgery. We have a funded T32 training grant that is shared with Transplant Surgery to help train both clinical and basic researchers focused on transplant hepatology and liver diseases. Our fellows also have additional opportunities for research through a pilot grants program supported by the Digestive Health Foundation. These projects have spanned the entire spectrum of gastrointestinal diseases and also encourage collaboration with other divisions and departments. Our goal is to utilize all of our vast resources to provide a comprehensive training program that is personalized to the fellow to ensure their future success.
We believe that this is an exciting time for the division, as we have developed one of the best academic programs in the country and continue to grow and expand our research portfolio and clinical services both regionally and nationally. Our goal is to continue to build upon these academic successes and to continue helping our community by focusing on health disparities and promoting justice for underserved populations in Chicago.