Division Chief's Message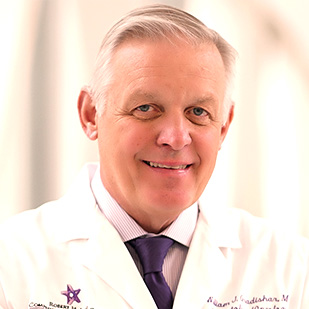 The Division of Hematology and Oncology, with more than 58 faculty colleagues, is one of the largest and most rapidly growing components of the Northwestern University Feinberg School of Medicine's Department of Medicine. Through our affiliated care sites, our faculty deliver care to thousands of patients each year, working in close partnership with dedicated advanced practice providers, pharmacists, social workers and many other healthcare professional colleagues. We take care of our patients, in a system primarily focused on them and their caregivers, within a supportive team environment in dedicated state-of-the-art facilities. We give this care while mentoring and teaching our future colleagues; education is a core part of our mission.
The best patient care is delivered in a clinical research environment. We thus have a very broad portfolio of studies focused on improving patients' therapeutic options and their quality of life, while increasing our understanding of all aspects of cancer and hematologic disorders and helping us to better prevent, diagnose, and treat these myriad forms of disease. The oncology program of the Northwestern Medicine Developmental Therapeutics Institute (NMDTI) is an integral part both of our division and of the Robert H. Lurie Comprehensive Cancer Center of Northwestern University. NMDTI serves as a unique program dedicated to accelerating the availability of novel therapeutic approaches to our patients and to fostering the careers of physician scientists within the postgraduate NMDTI Developmental Therapeutics Fellowship.
Northwestern University has a very large internal pre-clinical pipeline of novel agents, and a key activity of our division is to bring these agents to our patients. The OncoSET program is a key activity of the division with a focus on the use of genetic analysis of cancer serving as a guide towards personalized therapies. We continue to play an active and expanding role in the care of patients and conduct of research throughout the Northwestern Medicine system.
Our division houses laboratory-based investigators focused on a broad array of topics, including chemoprevention, cell signal pathways, epigenetics, immune-modulation and nanotechnology theranostics. The Hematology and Oncology Fellowship program offers graduates from the country's best internal medicine programs training in clinical care, clinical research and basic and translational research in hematology and oncology. 
Our plans include recruitment of faculty in the areas of basic science, epidemiology, population sciences, translational science (particularly in immunology and molecular biology) and clinical researchers in developmental therapeutics, hematological malignancies, non-malignant hematological disorders, skin cancers, thoracic oncology and urological cancers. Other priorities include division member participation in multi-project grant applications, including Specialized Programs of Research Excellence grants, expansion of our international health and telemedicine initiatives, expansion of our fellowships and the centralization of our faculty office and outpatient care areas.