Division Chief's Message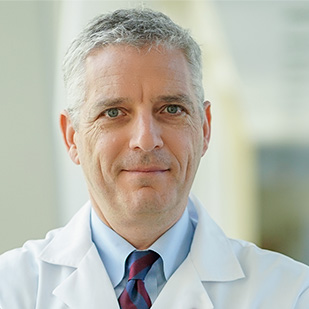 Welcome to the Division of Endocrinology, Metabolism and Molecular Medicine at the Northwestern University Feinberg School of Medicine. We are located in the heart of a thriving metropolitan area and based within a leading tertiary care medical center.  
We house an ACGME-accredited fellowship program with two to four clinical trainees matriculating each year. We have a National Institutes of Health (NIH)–sponsored Endocrinology T32 Training Grant that supports clinical trainees engaged in both patient-based research and preclinical studies in genetic, genomics and molecular biology.
Our nationally recognized research laboratories provide a stimulating environment for the development of trainees participating in the NIH Medical Scientist Training Program (MD/PhD), the Driskill Graduate Program in Life Sciences, the Interdepartmental Biological Scientist Graduate Program and the Physician Scientist Training Program of the American Board of Internal Medicine. Many of our trainees are supported by independent research awards, including National Research Service Award predoctoral fellowships, NIH K awards, American Diabetes Association pre-doctoral fellowships and early career awards and the Juvenile Diabetes Research Foundation International awards.
Our research is supported by more than $9 million in annual funding and encompasses maternal fetal health complications of pregnancy, pancreatic islet cell biology, genetics of polycystic ovarian syndrome, a diabetes prevention trial (a multi-year complications and outcomes study), the Preventing Early Renal Loss study of diabetic nephropathy in type 1 diabetes, nuclear receptor genomics and genetics, adipocyte development and incretin actions and the circadian basis of obesity, pancreatic b-cell function and metabolic epigenetics. The division is nationally ranked by U.S. News & World Report. This reflects the strong clinical programs that have existed at McGaw Medical Center and the high volume and exceptional care of individuals with endocrine disease.
Northwestern University Feinberg School of Medicine and its affiliates in the McGaw Medical Center provide an excellent training ground to accommodate individuals with diverse interests. We tailor our fellowship program according to the individual applicant, while ensuring a strong foundation in the fundamentals of clinical endocrinology and diabetes care for all fellows. Our fellows work alongside more than 25 full-time research and clinical faculty. In addition, trainees work with a fully dedicated hospital-based nursing team with expertise in diabetes care and responsibility for inpatient glucose management across all services in the hospital. Our outpatient experience includes supervision by national experts in neuroendocrinology, endocrine cancers, thyroidology, reproductive endocrinology, lipidology, bone health (including on-site densitometry), type 1 and type 2 diabetes management and obesity. Supporting our physician staff is a team of certified diabetes educators, nurse practitioners and psychologists. Collectively, our patient visits exceeded 15,000 individuals annually. 
Northwestern Medicine is in a phase of rapid growth, and an exciting campaign has been initiated to create an interdisciplinary diabetes and obesity center encompassing both clinical and research activities.
We welcome your interest and encourage you to contact us to explore our division and learn more about our program.