Diversity News
Our Diversity Council has been active for years with a mix of outstanding events. Due to the ongoing global pandemic of COVID-19, our in-person events have been either postponed or transitioned to virtual platforms. Residents and council members continue to attend a robust lineup of virtual conferences, book clubs, and networking events, including upcoming Student National Medical Association (SNMA) regional conferences.
Medical Grand Rounds
Faculty-led Resident Noon Conferences
Roopal Kundu: Dermatologic manifestations in ethnic skin
Keshav Khanijow: LGBTQ+ health
Stacy Tessler Lindau: Director of South Side Health and Vitality studies, discussing her outreach projects in South Side
Jennifer Seo and Dr. Anne Schultz--Health policy/ Healthcare organization
Award Opportunities
Hematology Award Opportunities for Underrepresented Minority Residents:

Minority Resident Hematology Award Program (MRHAP) – Provides support for underrepresented minority resident physicians in an internal medicine, pathology, or pediatric residency program to conduct hematology-focused research.
Hematology Opportunities for the Next Generation of Research Scientists Award (HONORS)– This award contributes to the development of the next generation of hematologists by providing research funding for talented first-, second-, and third-year medical students as well as first- and second-year medical residents. Both short- and long-term projects are supported.
Past Events
SNMA Regional Medical Education Conference
SNMA Regional Medical Education Conference was hosted by the University of Chicago on November 10th, 2018. This year's conference theme was "Be the Change: Making an Impact Through Social Justice and Medicine". Several members of DCAC attended and met with students from across the midwest region. Dr. Campbell-Yesufu was an invited speaker at the conference and she gave a presentation on "Social Justice in Medicine".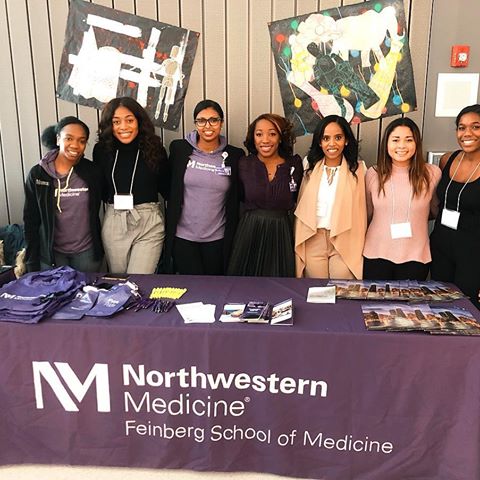 Mentor Mixer
The Diversity and Cultural Affairs Council was well-represented at the Mentor Mixer on December 5th with many residents, fellows and faculty from the Department of Medicine in attendance. Co-sponsored by the Feinberg School of Medicine's Office of Diversity and Inclusion and the Northwestern McGaw Underrepresented Residents and Fellows Forum (NMURFF), the mixer brought together students, residents, fellows and faculty for dinner and an evening of old and new connections.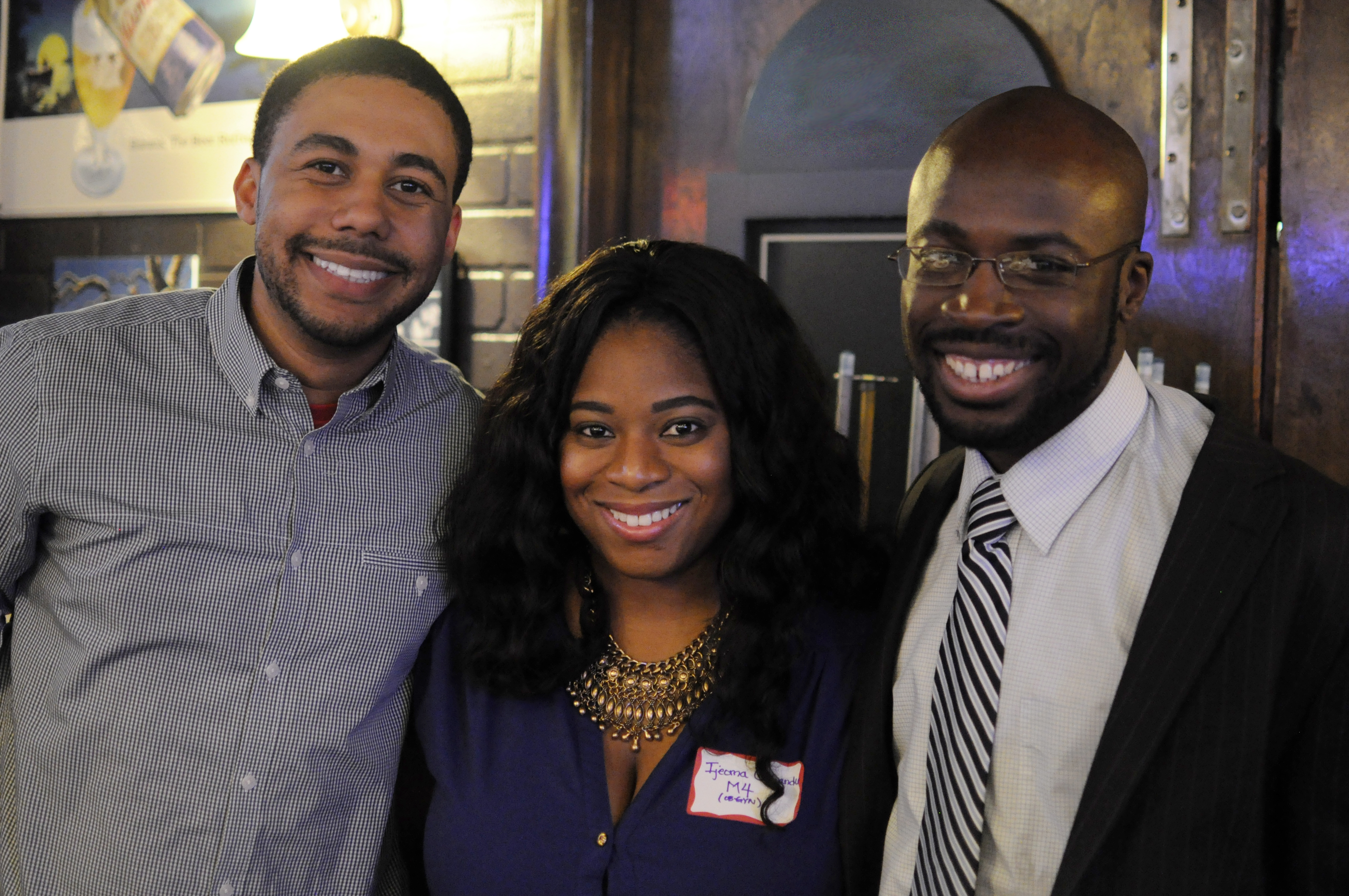 DCAC Annual Welcome Event
August 2018 - We kicked off the new academic year with our Annual Welcome Event. residents and faculty (including two Deans) turned out to welcome our new interns over drinks and appetizers at D4. The interns were excited to meet DCAC members and learn about their experience at Northwestern.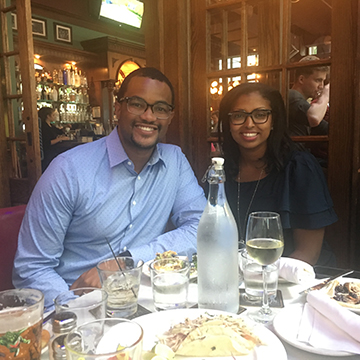 Day of Service
July 2018 - The Diversity and Cultural Affairs Council held its Day of Service this summer. We partnered with the National Kidney Foundation of Illinois to perform health screenings in the Cicero community. CAC members measured blood pressure, dipped urine, checked blood sugars and counseled patients about their medical conditions. This is one of DCAC's initiatives to address social determinants of health and reduce health disparities in our communities.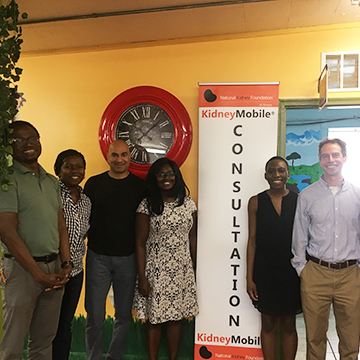 Advocacy in the Department of Medicine and Feinberg School of Medicine
March 2018 - Chief Medical Resident Sarah Chuzi and FSM medical students organized the Gun Violence Rally on March 14 in solidarity with students from across the country marching against gun violence. Several Department of Medicine and DCAC faculty and residents attended the rally calling for sensible gun legislation.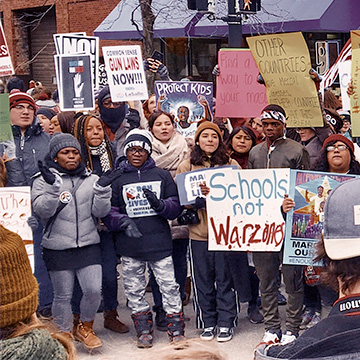 Grand Rounds & Noon Conference with Dr. Deidra Crews
April 2018 - Dr. Crews is an Associate Professor of Medicine, Associate Vice Chair for Diversity and Inclusion, and Associate Director for Research Development at the Johns Hopkins Center for Health Equity. Her research focuses on the contribution of social determinants of health to disparities in kidney disease, including studies looking at the optimal timing and setting of dialysis initiation among ESRD patients. She presented her research in disparities in kidney disease at Grand Rounds and spoke with residents during a noon conference discussion on community engaged research.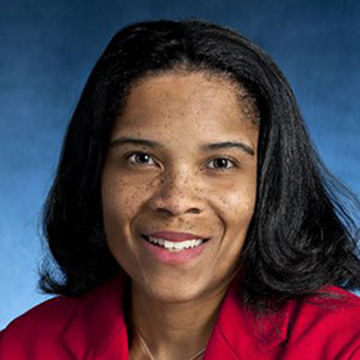 Special Noon Conference with recording artist and kidney disease advocate David Rush
Recording artist and kidney disease advocate David Rush spoke to residents, fellows and faculty at a special noon conference, sharing his experiences as a patient with chronic kidney disease and the work he is doing in patient advocacy.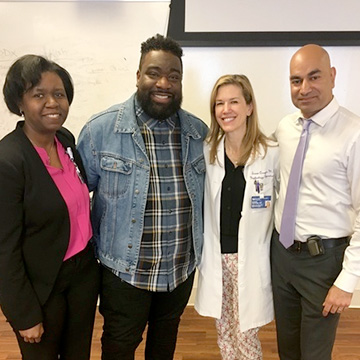 Annual McGaw Residency Showcase
The showcase was held on Saturday April 28th. Several residents and faculty from the Department of Medicine met with underrepresented minority students from across the country who are interested in continuing their training at Northwestern residency programs. They answered the students' questions and shared their experiences at Northwestern.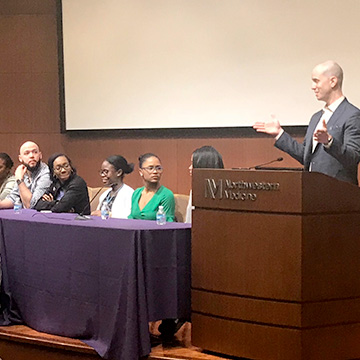 2018 DCAC Member Roles, Honors and Awards
Clyde Yancy, MD, MSc: Vice Dean, Diversity & Inclusion, Magerstadt Professor of Medicine, Professor of Medical Social Sciences, Chief, Division of Cardiology, Northwestern University, Feinberg School of Medicine. Associate Director, Bluhm Cardiovascular InstituteNorthwestern Memorial Hospital. Recently inducted into the National Academy of Medicine (October 2017)

June McKoy, MD, JD, MBA: Associate Professor of Medicine (Geriatrics), Program Director, Geriatrics Fellowship. Recently received FAME Outstanding Teacher Award (Sept 2017).

Daniel Ganger, MD: Professor of Medicine (Gastroenterology and Hepatology) and Surgery (Organ Transplantation)

Peter Sporn, MD: Professor of Medicine (Pulmonary and Critical Care), Cell and Molecular Biology and Medical Education, Program Director, Pulmonary and Critical Care Fellowship

Babafemi Taiwo, MBBS: Gene Stollerman Professor of Medicine (Infectious Diseases), Chief of the Division of Infectious Diseases, Department of Medicine, Feinberg School of Medicine

Fernanda Heitor, MD: Instructor of Medicine (Geriatrics), Assistant Program Director, Geriatrics Fellowship, Department of Medicine, Feinberg School of Medicine