Division Chief's Message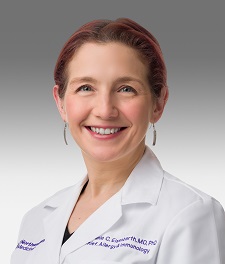 Welcome to the Division of Allergy and Immunology. The division has a long history of excellence in the three major pursuits in academic medicine: exceptional patient care through Feinberg-affiliated care sites, teaching the next generation of physicians and scientists in our field, and research into causes and cures for immune-mediated diseases. We are building on the incredible strengths of the division by integrating new programs in immunobiology, food allergy and anaphylaxis to lead the field in the treatment of allergic disorders through scientific discovery. For the past 18 years, the division has been superbly led by Robert Schleimer, PhD to become one of the nation's top academic allergy/immunology divisions. In 2022, Stephanie Eisenbarth, MD, PhD assumed the role of Chief to build on the division's tradition of strong clinical, training and research missions.
Patient Care
At Northwestern Medicine care sites, our faculty, fellows and residents, alongside talented nurses and staff, offer outstanding care for patients suffering from complex allergic diseases under the direction of Leslie Grammer, MD. Areas of clinical excellence include asthma, allergic bronchopulmonary aspergillosis, idiopathic anaphylaxis, food and drug allergy, occupational immunologic lung disease, hypereosinophilia, allergic rhinitis, chronic rhinosinusitis, urticaria and allergen immunotherapy. The division maintains a federally licensed CLIA laboratory, which provides diagnostic testing for multiple allergic diseases. 
Training Programs
We train MD and PhD fellows, graduate students, and research scientists in the clinical practice of allergy and basic and translational immunology. Our joint clinical fellowship training program with Pediatric Allergy and Immunology, directed by Carol A. Saltoun, MD, has graduated over 200 allergists, including numerous national and international academic leaders in allergy. The program offers fellows access to clinical teaching by allergists who publish the Northwestern University Allergy-Immunology Syllabus, used by numerous ACGME training programs, as well as the 8th edition of "Patterson's Allergic Diseases" textbook. We also have a T32 training grant from the National Institutes of Health (NIH) that supports trainees as they pursue careers in academic medicine. In addition, trainees interested in formal clinical research training have the opportunity to pursue a Master of Science in Clinical Investigation through Northwestern University. Our faculty train the next generation of scientists in allergy and immunology to become the future leaders in our field.
Research
Allergy remains one of the biggest scientific mysteries in immunology. Why does the immune system target seemingly random foods, animal dander, molds, pollens, or drugs? Decades of research have revealed how the immune system fights pathogens, recognizes our own molecules in autoimmunity or rejects transplanted organs. But the cues that make an allergen seem dangerous to the immune system and engender an allergic reaction, including some that are so severe as to be life-threatening, are not well understood. Our division is working to understand the cellular and molecular steps that result in allergy and how that can be reversed, prevented or mitigated in a better way than currently available. We are involved in trials and studies to understand the causes of eosinophil- and mast cell-mediated disorders, how the immune system learns to recognize food allergens and drugs as dangerous, regulation of the immune cells that mediate asthma, and the immunopathology underlying chronic rhinosinusitis and occupational immunologic lung disease. Thanks to considerable funding from the NIH, private foundations, and generous benefactors we have incredible opportunities to grow further and expand our footprint within the field. Our division is fortunate to be endowed by the Roy and Elaine Patterson Chair, the Samuel M. Feinberg Chair of Medicine, and the Bunning Chair for Food Allergy Research, which has enabled us recruit leaders across the allergy field.
We encourage you to learn more about our division and the multiple clinical, teaching and research programs that we offer.