Artificial Intelligence (AI) Fellowship in Cardiovascular Disease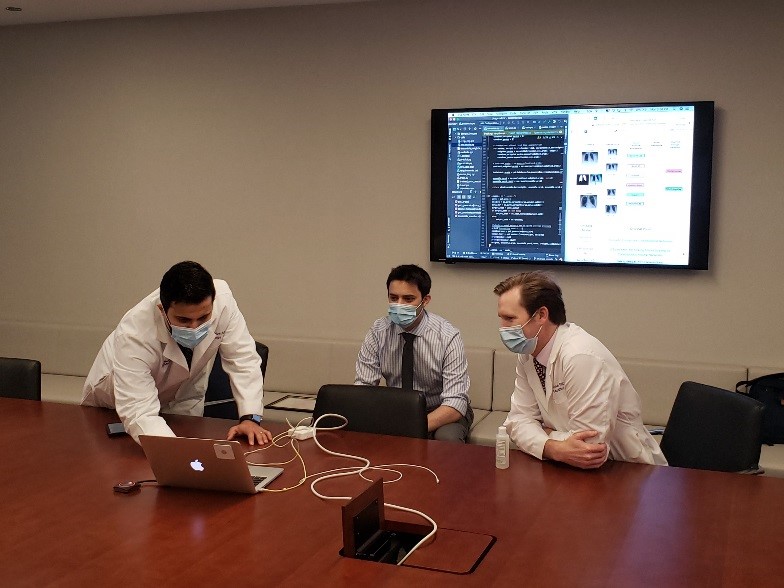 Training Future Cardiovascular Physicians to Maximize AI Technology – A Unique Partnership between Northwestern University McCormick School of Engineering and Northwestern Medicine Bluhm Cardiovascular Institute
The "future is here" might be a trite and overused phrase but it truly is almost here when it comes to harnessing the power of machine learning to advance cardiovascular care. A quickly evolving field, artificial intelligence (AI) offers endless possibilities with Northwestern Medicine leading the way. In a bold move to revolutionize the practice of cardiovascular medicine, we have launched a first-of-its-kind fellowship cardiovascular disease to mentor the next generation of clinicians in the emerging area of AI.
This one-year training program will involve experienced faculty members from both Northwestern Medicine Bluhm Cardiovascular Institute and Northwestern University's McCormick School of Engineering and will be geared toward cardiology, cardiac surgery and internal medicine trainees. This training program begins with one quarter of intensive immersion in computation, programming and statistics that serve as the foundation for learning more advanced computational approaches. The subsequent three-quarter sequence in AI, machine learning (ML) and data science will focus on the knowledge and skills needed to address the exploration and use of AI and ML systems in the development of new healthcare solutions. The curriculum for this sequence will include classes in human computer interaction (HCI) and the elements of human cognition that have to be considered when building intelligent systems. This integrated research program will occur in parallel with the advanced classes in which students do computationally enabled research advised by faculty in heart disease and computer science. Research opportunities alongside senior faculty members will help shape the trainees' experiences, preparing them for successful careers.
Fellows in the inaugural year of this fellowship worked on numerous projects that will advance the field of cardiovascular medicine and pave the way for AI-assisted diagnosis and treatment, including:
Training computer algorithms to recognize and diagnose types and locations of cardiac arrhythmias from the 12 lead ECG
Automating the identification of new serum markers, image characteristics and patient characteristics for those with cardiovascular complications related to kidney disease
Using computer vision technology to automatically interpret cardiac nuclear imaging for the early detection of cardiac amyloidosis
NLP to derive structured data from medical notes in electronic health records/MRI/echo reports
Developed "Deep COVID-XR", an AI system for detecting COVID-19 on chest x-ray (published in Radiology, November 2020)
Please direct inquiries regarding the non-clinical, non-ACGME, computer science fellowship in AI or the application process to BCVI.MSAI@nm.org. 
The Department of Medicine at Northwestern University seeks to attract inquisitive, motivated residents and fellows and is committed to providing them with every opportunity for success. The greatest challenges facing the medical field are complex, and addressing them will require a diverse body of physicians and researchers who can work collaboratively. Northwestern offers unparalleled training and research opportunities and encourages fellowship applications from those who seek to become future leaders in the subspecialties of medicine.  We are committed to and inspired by a diverse and inclusive work environment that allows each trainee to achieve their personal goals.
For more information on Northwestern's commitment to diversity please see the following resources:
Successful candidates will hold a graduate doctoral degree (MD, DO) prior to beginning the fellowship, and a current, valid medical license (non-restricted). Applicants currently in clinical programs should expect that a majority of their time will be devoted to classwork, and should arrange to apply during their research year.
Interested candidates should send the following materials to bcvi.msai@nm.org for review by our selection committee:
Letter of Interest
Current, Curriculum Vitae
3 letters of recommendation
 One from current (or most recent) ACGME Program Director
 Two from faculty familiar with your work clinically or academically
Qualified fellows will be invited to submit further materials.
Contact Us
Please direct inquiries regarding the non-clinical, non-ACGME, computer science fellowship in AI or the application process to BCVI.MSAI@nm.org. 
Physician-Scientist Training & Resources
We offer a wide range of resources, mentorship opportunities and formal training programs to help our residents and fellows excel as physician-scientists. Explore all of the resources and hear from housestaff who are making research a major part of their career development plans.
Visit the Starzl Academy Site